THANK YOU TO OUR ENTIRE BLANKENBURG SCHOOL COMMUNITY FOR A WONDERFUL 2020-2021 SCHOOL YEAR!
OUR ANNUAL SCHOOL PLAN MUST BE REVIEWED BY OUR SCHOOL COMMUNITY! PLEASE SEE BELOW!
Hi Parents/Guardians & the School Community! Please see our annual school plan and please click the link below to offer feedback:
See School Plan Here: https://drive.google.com/file/d/1fX74de2ZIy_jLZss7SN9UQC536x0Rqli/view
Click on Link to Offer Feedback: https://docs.google.com/forms/d/1-Fq51YmzPWzlCC8-rL-KJc44zkq-nQJsiGrcbfqvZvQ/viewform?edit_requested=true
2.) Please call Ms. Powell (Parent Liaison) for additional help and support: 267-894-4919
Upcoming Events
Coat and Supply Drive: Every Monday – Thursday 9:00 A.M. – 12:00 P.M. at Blankenburg.
3rd Quarter Virtual Awards Assembly:
K-2nd Grades: April 12, 2021 8:30a – 9:15a
3rd-5th Grades: April 13, 2021 8:30a – 9:15a
6th-8th Grades: April 12, 2021 2:15p – 3:00p
Please join us as we celebrate our scholars.
Join Zoom Meeting
https://philasd-org.zoom.us/j/88940023204?pwd=NFEwVGdueGczcy9hcXUvL2V3MkFFQT09
Meeting ID: 889 4002 3204
Passcode: 697996
---
Parent Survey:
Please click the link below and take the quick 10 minute parent survey.
The survey is designed to find out what you think about your scholars school. We encourage you to take the survey for each of your scholars! The District-wide Parent & Guardian Survey is open to parents and guardians of students in Philadelphia public and Charter schools.
Parent Survey link: https://webapps1.philasd.org/parentsurvey/
You will need your scholars ID number, if you do not know it you can contact us.
Thank you for your participation and have a wonderful day!!!
---
Pennsylvania EBT Family Address Verification Needed:
Pennsylvania will be issuing Pandemic Electronic Benefit (P-EBT) benefits to families of school-age children again. Therefore, we are asking that you please verify you address we currently have in the system no later than April 20, 2021. Visit philasd.org/studentplacement/pebt to submit address update requests.
Thank you.
---
IMPORTANT! IMPORTANT! UPDATES!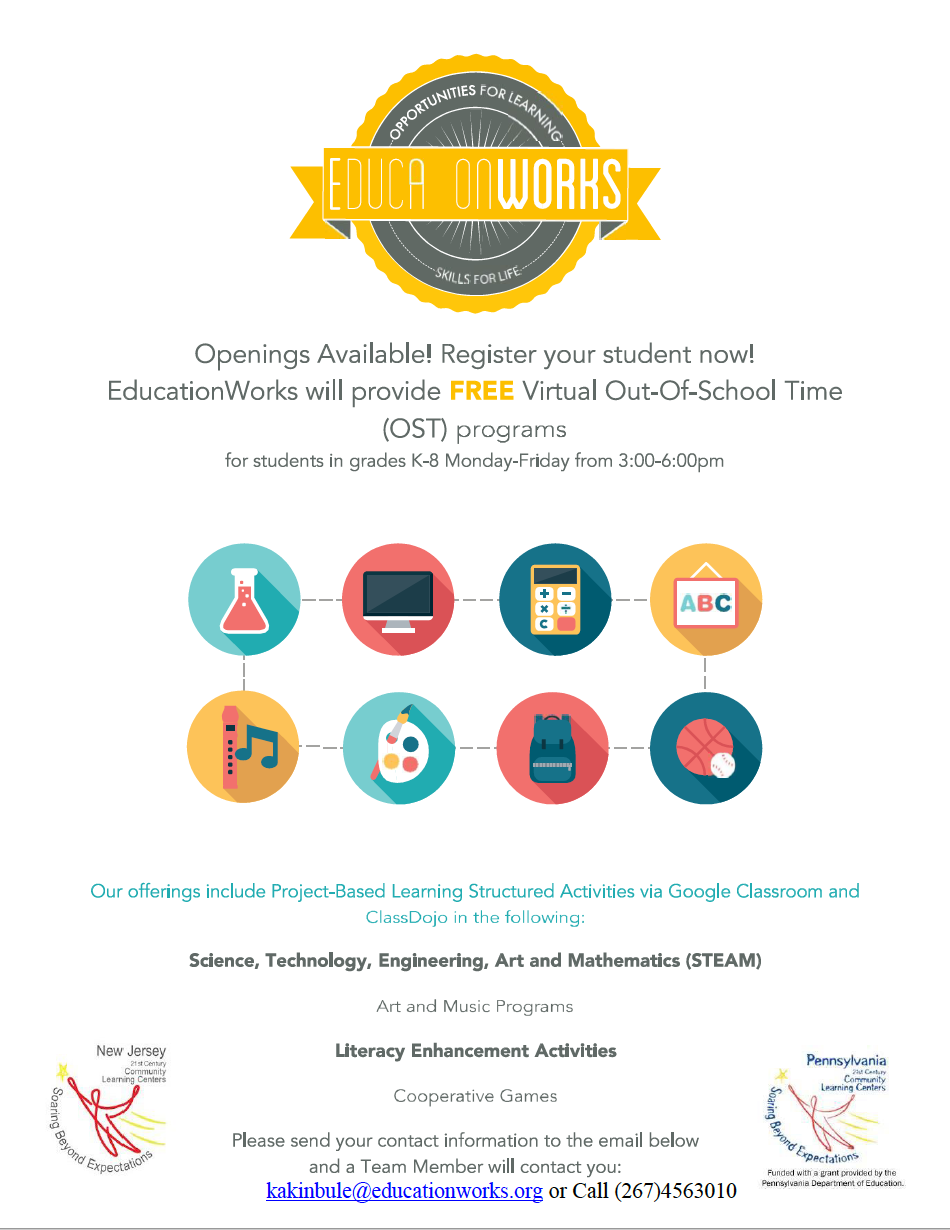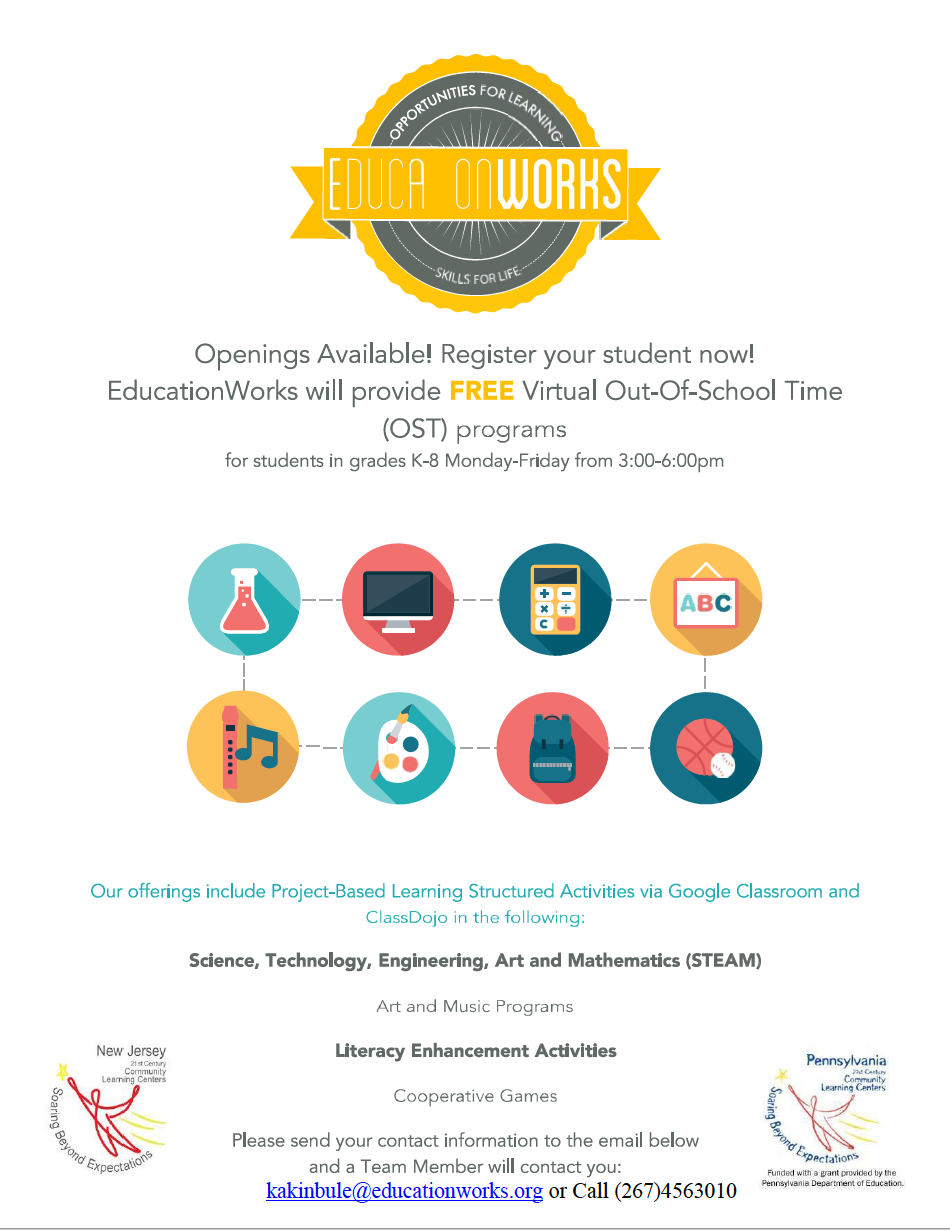 ———————————————————————————————————————-Click here to see Our monthly Social Emotional Learning Monthly Calendar
April 2021 Theme – 'Peace"
March 2021 Theme – 'Patience'
February 2021 Theme – 'Kindness'
January 2021 Theme – 'Commitment'
December 2020 Theme – 'Generosity'
November 2020 Theme – 'Gratitude'
October 2020 Theme – 'Creativity'
September 2020 Theme – 'Empathy'
---
Counselor Corner – Week of 4/12/2021
★     Congratulations on wrapping up Q3 Report Card Conferences!! If you questions, please let us know and we will provide support.
★     IFS will be providing in-school services for scholars soon. We will share more details as we receive more information.
★     The window Hybrid Learning Application Window for 3-5th grade and 6-8th grade with complex needs ends April 13th. Please look for the email provided by the School District and complete the Covid Consent form.
★     The theme for Middle School lessons: Naviance
★     The theme for Elementary School lessons: Counseling Lessons Review
---
The UPLIFT: Center for Grieving Children is still offering their services in the New Year. In addition to supporting our Scholars, UPLIFT also seeks to support the Parents/Guardians of Blankenburg.
1.) VIRTUAL GRIEF SUPPORT GROUPS: Uplift offers free grief support groups to youth, grades K through 12th, and their adult caregivers after the death of someone close to them. Virtual groups take place online via Zoom – families can use smartphone or other electronic devices with internet/WiFi. Children, teens and adults meet separately in the afternoons and evenings. Sessions meet for 1 hour each week for 5 weeks.
2.) CAREGIVER WORKSHOPS: Uplift provides caregiver workshops for adults raising grieving children. Workshops focus on educating caregivers in a school or community organization about children's bereavement, what children and teens tell us about their emotions through their behaviors, and learning & practicing concrete skills for safely managing challenging behavior.
Uplift also offers virtual services for Spanish-speaking caregivers with bilingual clinicians. All services are free and require caregivers to enroll the family for services.
If you would like to learn more or wish to enroll, please contact either counselor using the information below and/or chat with us at the Special Education & Mental Health Parent Workshop from 3:30 PM – 4:30 PM, this Wednesday:
Counselor Justice(K-4) djustice2@philasd.org (267) 405-3421
Counselor Seward(5-8) sseward@philasd.org (215) 828-9115
——————————————————————————————-
From Nurse Shelah:
The first is the form for Tylenol and Motrin permission called (S-865)(This can be completed online). This form should be submitted every year to update that you have given permission for the nurse to give either Tylenol or Motrin or both to the student.
https://docs.google.com/forms/d/e/1FAIpQLSdej4jw5iFsEccIUYrK4IUWrEdFgCRfxevgUNb8DcYlkM34Jw/viewform
or
https://www.philasd.org/studenthealth/forms/
The link below is a .pdf version which can be downloaded, completed, and emailed to Nurse Shelah at smcmillan@philasd.org
https://www.philasd.org/studenthealth/wp-content/uploads/sites/854/2018/08/Med-1.pdf
---
Dear Parent/Guardians:
As a parent or guardian of a student attending a school that is receiving Federal Title I dollars, you have the right to know the professional qualifications of the teacher(s) and instructional paraprofessional(s) who instruct your child.  Federal law requires every Title I school district to comply and to provide you with the requested information in a timely manner.  All schools have on file a listing of faculty members and their professional qualifications.  Please see the below links for the Right To Know letter which is available in both English and Spanish.
VISIT OUR SPECIAL PARENT WEBSITE FOR MORE INFORMATION! CLICK HERE!
WELCOME TO OUR VIRTUAL LEARNING PLATFORM!
CONTACT OUR PARENT LIAISON FOR QUESTIONS: 
GHANDI POWELL: GPOWELL@PHILASD.ORG 
267-894-4919

HAVE QUESTIONS OR CONCERNS? CALL US TODAY
267-399-3742 OR‪(443) 470-2299‬
WE NEED YOUR SCHOLARS UPDATED CONTACT INFORMATION PLEASE CLICK HERE TO UPDATE YOUR CONTACT INFORMATION & FOR YOUR TEACHER TO START CONTACTING YOU!
MISSED YOUR OPPORTUNITY TO GET A CHROMEBOOK?
215-400-4444 OR EMAIL FAMILYTECHSUPPORT@PHILASD.ORG
Please email Principal Hagan at LLBALTIMORE@PHILASD.ORG OR
or
Additional Principal supporting Blankenburg: Principal Jessup DRJESSUP@PHILASD.ORG
OR
Assistant Principal Pitts   SRPITTS@PHILASD.ORG for questions about usernames and passwords
FOLLOW US ON:
 WATCH OUR VIDEO: "WE MISS YOU: A SPECIAL TRIBUTE!"
WATCH OUR VIDEO: "ALL ABOUT BLANKENBURG"